Printed Stix
PubliStix
Our top seller by far- simple and inexpensive, easily branded, and fun for the fans! Please see below for all pricing.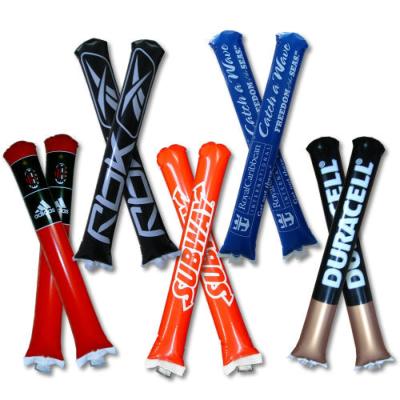 Considering having sponsors place their logo on the back of your PubliStix and raise funds. Up to 4 logos can be placed easily.
Want to make your own unique custom inflatable? We'll make it for you. Call us today.
 Setup Fee: $70 per colour, per side (G)
| | 1 Color | 2 Color | 3 Color | 4 Color | 5 Color |
| --- | --- | --- | --- | --- | --- |
| Product# | CS-1C | CS-2C | CS-3C | CS-4C | CS-5C |
| 125 | $1.49 | $1.50 | $1.51 | $1.52 | $1.53 |
| 250 | $1.09 | $1.10 | $1.11 | $1.12 | $1.13 |
| 500 | $0.94 | $0.95 | $0.96 | $0.97 | $0.98 |
| 1000 | $0.75 | $0.76 | $0.77 | $0.78 | $0.79 |
| 2500 | $0.56 | $0.57 | $0.58 | $0.59 | $0.60 |
| 5000 | $0.50 | $0.51 | $0.52 | $0.53 | $0.54 |
| 10000 | $0.42 | $0.43 | $0.44 | $0.45 | $0.46 |
| 10,000+ | Quote | Quote | Quote | Quote | Quote |
| Code | 7E | 7E | 7E | 7E | 7E |